or Share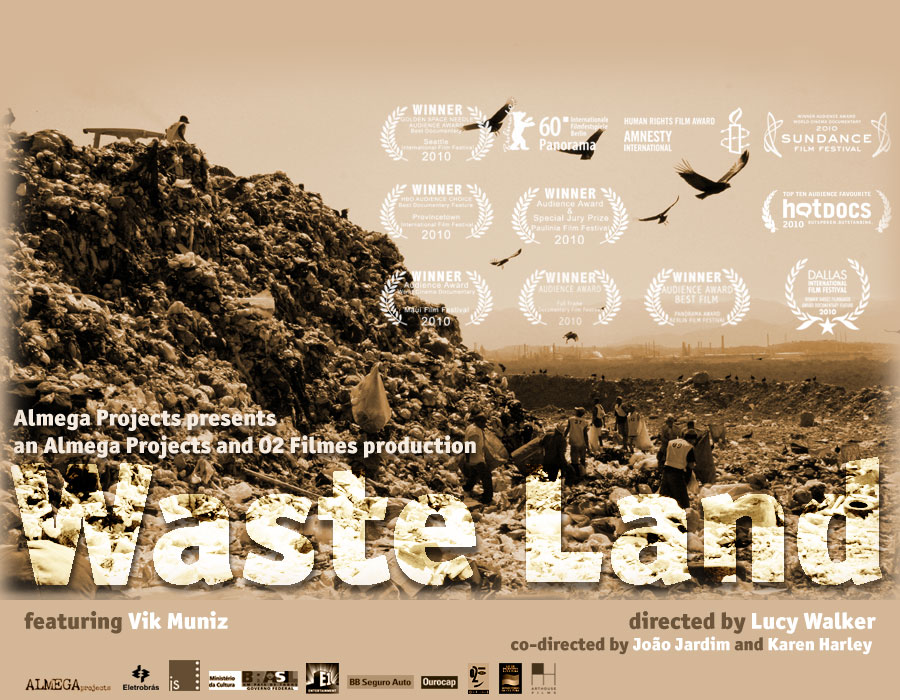 Filmed over nearly three years, WASTE LAND follows Muniz as he journeys from his home base in Brooklyn to his native Brazil and the world's largest garbage dump, Jardim Gramacho, located on the outskirts of Rio de Janeiro. There he photographs an eclectic band of "catadores" -- self-designated pickers of recyclable materials. Muniz's initial objective was to "paint" the catadores with garbage. However, his collaboration with these inspiring characters as they recreate photographic images of themselves out of garbage reveals both the dignity and despair of the catadores as they begin to re-imagine their lives. Director Lucy Walker (DEVIL'S PLAYGROUND, BLINDSIGHT, COUNTDOWN TO ZERO) has great access to the entire process and, in the end, offers stirring evidence of the transformative power of art and the alchemy of the human spirit.
Moby: "my favorite movie of the year, 'waste land'. i mean, i'm biased, as my friend lucy made it, and i did the music for it. but it's still the most beautiful and inspiring movie i've seen in years, and i very strongly urge you to go see it.
i just got back from a screening of lucy walker's movie 'wasteland' at the museum of modern art. before i tell you how amazing it is and how much i loved it let me say 2 things:
1-lucy is an old and good friend of mine.
and
2-i did most of the music for the film.
so i'm perhaps not 100% objective. but it's the most beautiful, inspiring, and remarkable film i've seen in years. at a few points during the movie the entire theater was crying, even the tough brazilian businessmen sitting next to me. i believe it's being released commercially in the autumn, and i'll write more about it then. but from my perspective it's the best and most beautiful movie of the year. hands down, bar none. i hope you get the chance to see it when it's released, or at a film festival before it's released. it's not cynical. it's not ironic. it's not trendy or esoteric. it's just a truly beautiful and inspiring movie."
Trailer for WASTE LAND, a film by Lucy Walker. In theaters in the US October 29th.
---
Related Content: